How to maintain watchs value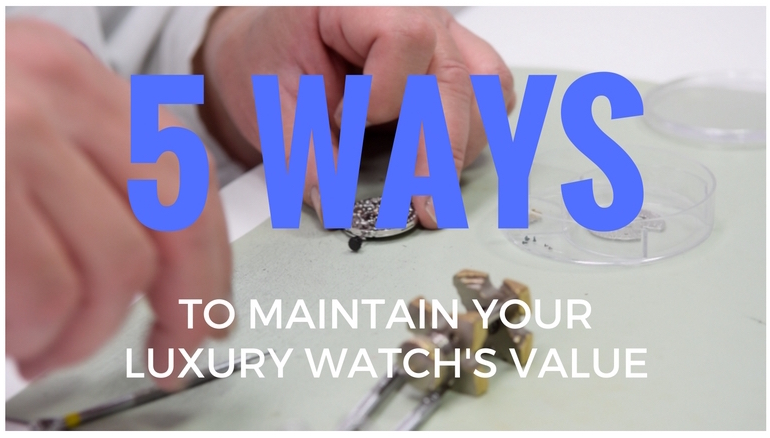 For those that are purchasing their luxury Watch to either keep for life or even sell for a profit in the future, these 5 easy recommendations can help maintain value.
1. Clean Regularly
There is a reason I often mention and tend to be so adamant about cleaning your watch: it can add years to its life and help maintain value. Regular cleaning will help keep dirt, debris, dust, salt and sand, body grime, etc away from the precious moment and even between the links where these unwelcome elements can erode the metal. Depending on the materials and method recommended by your particular luxury watch brand, usually just a simple soap bath once a month can do the trick. For all-metal timepieces, watch this quick instructional how-to video or view the step-by-step slideshow.
2. Service Regularly | Mechanical Value
Glenn, the in-house watchmaker at Watch Chest, could not be more passionate about this. Servicing your luxury watch regularly (Rolex recommends every 3-5 years) will eliminate so many problems, thus maintain its value. For instance, damage to the dial and hands can occur through moisture leaking from old gaskets and other general wear-and-tear from neglect. Even if you do not wear your watch often, the oils and grease required to keep a mechanical movement running properly dry out over time, causing internal issues that can be costly and easily avoided. In this video, hear Glenn in his own words on the importance of regular service. Find out about Watch Chest's service process here!
3. Avoid Alterations
I know that a big trend right now (especially with a Rolex) is replacing the original bracelets with an off-brand strap – and as long as you don't lose that bracelet, the value of your watch will stay in tact just fine. What will decrease it, however, is replacing dials and other parts with aftermarket ones. The obvious reason for the lessor value is that you are replacing authentic parts with fake ones. But something not always considered is the possible damage it may be causing your luxury timepiece due to issues, like it not fitting properly. For instance, a lot of aftermarket dials for Rolex are this way; where say the hands can't really move correctly and subsequently perhaps one of the wheels gets caught… it's just a big mess on the watchmaking side and can very easily lessen the mechanical value of your timepiece in the future.
4. Keep Any & All Accessories
Luxury watches in the pre-owned market are usually priced accordingly in regards to having or not having paperwork and accessories. However, if you purchase yours (new or used) and any of these things are included, keeping these items will help maintain value and even possibly add to it in the future. Please do not throw them away or lose them in a move… you'd be surprised.
5. Wear With Respect
I say this lightly, because a Rolex, for instance, is designed and encouraged to be worn. Enjoy it and get use out of it! There will definitely always be a normal amount of wear-and-tear. But maybe skip wearing it when working on your classic car or doing construction. Even if you do none of those things, be mindful by not banging it around to shreds in everyday life or having it sized loosely so that you don't wear down the bracelet's links. A little awareness and respect will significantly help keep the aesthetic and long-term value up.
Conclusion
These five things are easy, cost-effective ways to maintain and add future value to your luxury timepiece, whether you aim to sell years down the road or keep to pass down to future generations. But above all else, enjoy!